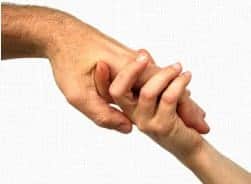 This is my second post devoted to a passage of "The Gospel Covenant" by Peter Bulkeley. The first can be read
here
, with relevant links. Note that arcane spelling and grammar are in the original.
"For comfort to such as are entred into covenant with God, by the Mediation of the Lord Jesus, the Mediator of the covenant; here is their comfort, that this covenant so made, can never be disanulled or broken off. Satan will not be wanting [lacking] to make a breach, if possible he can; he envieth this uniting of God and man in covenant one with another; As soon as ever he saw a Covenant passed between God and our first parents, he presently bestirred himself to make a breach between them, hee did then cast between them
melon epidos
, an apple of strife (as I may so call it), to draw man to violate the covenant of obedience, which God had bound him in, and so he broke asunder the covenant between God and us; And were our covenant now without a Mediator, as the former was, he might prevaile against us and make a new breach, as he did before; but now here is our stay and strong assurance, that if we be once taken into this covenant of grace, this covenant will hold; Though God
might
in his justice breake with us, and we
would
break with him through our sinful infirmity and backsliding disposition that is in us, yet the Mediator the Lord Jesus Christ, standing between God and us, keeps us together, that we can never fall asunder: he pleads with the Father to reconcile him to us, when he is angry with us; he pleads also with us, and when we are going back from God, he brings us to him againe, by renewing in us repentings before him; he draws the heart again before the Throne of Grace, powers upon us the spirit of grace and supplication, puts in our mouths words of confession, and stirres up in us sighs and groans of spirit, intreating the Lord that, though we have gone back from him, yet he would again receive us graciously,
Hosea 14:2
. And thus by means of this our blessed Mediator and Advocate we are holden and continued in covenant with God, so as the covenant of his grace and peace made with us, stands fast through Christ, notwithstanding our manifold declinings and turnings back from him."
Hosea 14:2, "
Take with you words and return to the Lord; say to Him, 'Take away all iniquity; accept what is good, and we will pay with bulls the vows of our lips.
"
Also, John 10:27-30, "
My sheep hear My voice, and I know them, and they follow Me. I give them eternal life, and they will never perish, and no one will snatch them out of My hand. My Father, who has given them to Me, is greater than all, and no one is able to snatch them out of the Father's hand. I and the Father are one.
"