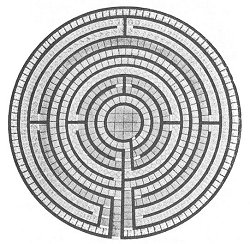 I have written
before
of the abandonment of the
Regulative Principle of Worship
by
Lake Forest Church
, a local, very large congregation of the Evangelical Presbyterian Church. Now, in addition to creeping Popery, Lake Forest has added New Age spirituality to its eclectic mix.
For Easter, Lake Forest is promoting its "prayer labyrinth." Their website announces, "Come participate in an interactive visual and auditory journey of prayer in our Gathering Space meant to draw you deeper into a centered relationship with Christ." While such labyrinths have become commonplace among liberal churches, especially Episcopalian and Catholic, this is the first time I have heard of it in a professing evangelical church. Such labyrinths were absorbed by the state church
from Roman paganism
about the Fourth Century.
Lake Forest Pastor Mike Moses promotes the labyrinth on
his personal blog
. Note that he refers to not even one Scripture as a justification for the labyrinth. Rather, he tells us, "The inward journey – 'letting go' or shedding. The middle of the journey – centering. The outward journey – incarnation." That isn't biblical Christianity; that is New Age psychobabble!
Moses does refer to one (and
only
one) Scripture in his blog post, Romans 14, implying that the one who refuses to participate in the labyrinth is "
the weaker brother.
" But I would refer Rev. Moses to I Corinthians 10: 14, "
Therefore, my beloved, flee from idolatry.
" And verse 20, "
what pagans sacrifice they offer to demons and not to God. I do not want you to be participants with demons.
" I suggest that, by adopting a pagan ceremony, Lake Forest Church is fellowshipping with demons.