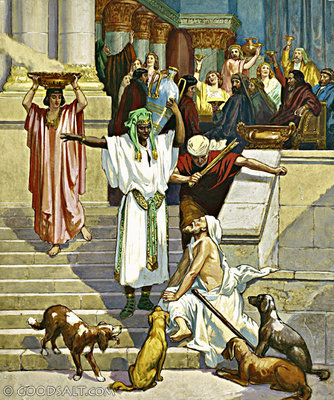 The Seventh-Day Adventists hold to a doctrine referred to as "
soul sleep
." Their belief is that the intermediate state, i. e., the state of the soul, is a condition of unconsciousness. This is in contrast to the view of orthodox Christians, who believe that the soul enters its eternal state (Hebrews 9:27), whether in heaven (Luke 16:25, 23:43, John 5:24) or in hell (John 3:18, II Peter 2:9), to be joined by the body at the resurrection, at which time the final judgment will confirm each person's eternal state.
Jesus addressed this question indirectly when He was challenged by the Sadducees, who denied the doctrine of resurrection (Matt. 22:23-33, Mark 12:18-27, Luke 20:27-40). In His answer (Matt. 22:31-32), Jesus reminds them, "
As for the resurrection of the dead, have you not read what was said to you by God:
'I am the God of Abraham, and the God of Isaac, and the God of Jacob'? He is not God of the dead, but of the living." In rejecting the error of the Sadducees, Jesus describes the patriarchs as alive now, and worshiping God now. His whole argument would be meaningless if those men were in their graves, unconscious, with no relationship with God in their current state.
Another passage in which the Redeemer addresses this question is John 14:2-3: "
In My Father's house are many rooms. If it were not so, would I have told you that I go to prepare a place for you?
And if I go and prepare a place for you, I will come again and will take you to Myself, that where I am you may be also." If Jesus is going somewhere, from which He will return to us, where will that be? It can't be the grave; what meaning could there be for rooms built for us in the grave? Rather, He is obviously referring to heaven (see Acts 7:56, Col. 3:1, and Hebrews 1:3). Between His first and second Advents, Jesus is working to prepare for those who die during that same period. Would a Seventh-Day Adventist or Jehovah's Witness claim that He is preparing this home with the expectation that no one will make use of it? That would be futility, indeed.
The Jehovah's Witness have a distinct, though related, doctrine, that the souls of both believers and unbelievers are annihilated at death, to be reconstituted at the judgment. The words of Jesus in this story are even more telling against their doctrine. The SDA's and JW's share a common origin, but have diverged significantly. I don't know when they diverged on this doctrine, or who diverged from whom.