One of the claims of the Roman Catholic Church is the the Bible is not sufficient for the conversion and sanctification of the Christian. Rather, she says, the Apostles left a
Sacred Tradition
which has been passed from bishop to bishop, down through history, a process called "
apostolic succession
." As the Catholic apologetics site linked here says, "
Isn't the Bible Alone [sic] sufficient for us without all of the 'Tradition' that pollutes the Word of God with man-made stuff? The answer is absolutely not."
Against this teaching, the Reformers taught one of the five solas, "
sola scriptura
," Latin for "Scripture alone."
In support of the Protestant view, I want to look at one of the things that Scripture says about itself in II Peter 1:3-4 (emphasis mine): "
His divine power has granted to us all things that pertain to life and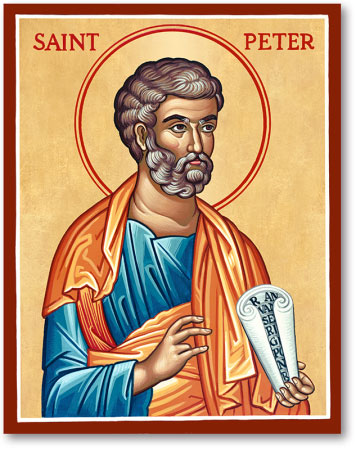 godliness, through the knowledge of Him who called us to His own glory and excellence,

by which He has granted to us His precious and very great promises, so that through them you may become partakers of the divine nature, having escaped from the corruption that is in the world because of sinful desire

."

First, I want to point out that these verses are from the Apostle Peter, the supposed first pope and founder of the apostolic succession of one pope to another. Second, I want the reader to notice the pronouns that Peter uses: "us" three times, and "you" once. While he refers to "He" or "Him" several times, he never once says "I" or "me." "He," that is, God, has granted "us" "

all things that pertain to [eternal] life and godliness

."

We

whom? Peter and his readers, the

same

ones he addresses as "

you

"! His emphasis is on the sufficiency of the truth that he share already with his fellow Christians, not a secret that will be kept by the pope until some time that serves his purpose.

Peter, the very man claimed by Rome as the beginning of their apostolic superiority, says that all Christians have what we need for eternal life and sanctification. There is no secret tradition, whether sacred or otherwise, of information for which we are accountable.

If the claims of Rome are contrary to the words of the man they claim as their founder, why do they make them? To my mind the answer is obvious: if the hierarchy of Rome has information that is essential for our salvation, and that we can get in no other way, then she has an absolute control over our salvation. And that is the exact spiritual bondage against which John Hus, John Wyclif, Martin Luther, John Calvin, Thomas Cramner, John Knox, and all of the other Reformers rebelled in the Fifteenth and Sixteenth Centuries, and against which biblical Christian must battle even in our present day.