Speaking of the coming of Christ, John the Baptist told his audience (Matthew 3:11-12): "
I baptize you with water for repentance, but He who is coming after me is mightier than I, whose sandals I am not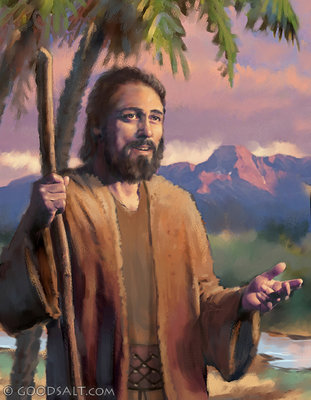 John the Baptist

worthy to carry. He will baptize you with the Holy Spirit and fire. His winnowing fork is in his hand, and He will clear His threshing floor and gather his wheat into the barn, but the chaff He will burn with unquenchable fire."
We often hear verse 11 quoted, especially by Pentecostals, who claim that it refers to baptism with water and baptism with the Holy Spirit and fire, which is supposed to be what they're doing when they are writhing around spouting gibberish. Notice that they never go on to verse 12, because it shows that their interpretation is merely begging the question, not the actual intention of John.
John says that Jesus will do two things, baptize with the Holy Spirit, and baptize with fire. This is what the Pentecostals try to make into one thing. However, he goes on in verse 12 also to describe two different groups of people, the "wheat," and the "chaff" (compare the Parable of the Wheat and the Weeds (Matthew 13:24-30). The first group He will gather (cp., Matthew 24:31) into the barns, that is, to be kept, while the latter group is intended for fire. Thus the baptism with the Holy Spirit is for the first group, while the baptism with fire awaits the other.
Thus, taken together, the baptism with the Holy Spirit and the baptism with fire are two distinct things, the first for believers and the second for unbelievers.
This is consistent with the rest of Scripture. For example, Paul tells us that all believers, not just some of a special class, are baptized with the Spirit (I Corinthians 12:13, see also John 7:39). We also know from other passages that Jesus Himself described fire as the destiny of unbelievers (Matthew 25:46, Mark 9:42-49).
I think that this simple use of context and the analogy of faith, i. e., comparing one passage to another, demonstrates that the use of this passage is unwarranted, at best. It takes the mere proximity of two words to mean that the two words refer to the same thing. There is no glossolalia taught here.