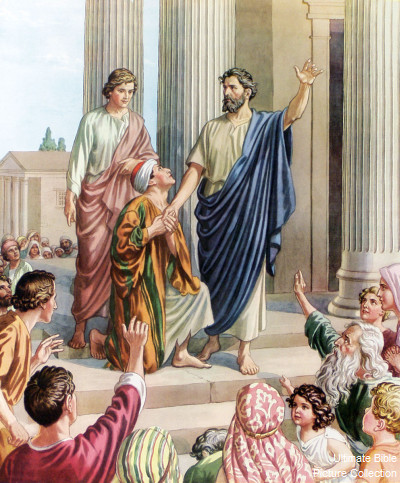 Peter on Solomon's Portico
In Acts 3:15-21, Luke gives us an account of a sermon to the Jews in front of the Temple. "
You killed the Author of life, whom God raised from the dead. To this we are witnesses. And His name—by faith in His name—has made this man strong whom you see and know, and the faith that is through Jesus has given the man this perfect health in the presence of you all. And now, brothers, I know that you acted in ignorance, as did also your rulers. But what God foretold by the mouth of all the prophets, that His Christ would suffer, He thus fulfilled. Repent therefore, and turn back, that your sins may be blotted out, that times of refreshing may come from the presence of the Lord, and that He may send the Christ appointed for you, Jesus, whom heaven must receive until the time for restoring all the things about which God spoke by the mouth of His holy prophets long ago
."
As God had planned (see Acts 4:27-28), the Jews had rejected their Messiah and killed Him on the cross. This was God's purpose, to bring to pass the redemption of His church (Ephesians 5:25). But the perpetrators of that crime, the unbelieving Jews, had declared a curse upon themselves: "
His blood be on us and on our children!
" (Matthew 27:25). Yet, notwithstanding their self-cursing, Peter tells them how to escape the wrath of God: "
Repent and turn back, that your sins may be blotted out
" (Acts 3:19). And this was no new doctrine, for it was exactly what had been proclaimed in their Hebrew Scriptures: "
Come now, let us reason together, says the LORD: though your sins are like scarlet, they shall be as white as snow; though they are red like crimson, they shall become like wool
" (Isaiah 1:18).
Many people put an incorrect order to this. They suppose that an unregenerate man first repudiates his sin, and then believes in God, and then, finally, is justified. That, in fact, is impossible. The unregenerate man has no interest in forsaking sin or turning to God: "
None is righteous, no, not one;
no one understands;
no one seeks for God" (Romans 3:10-11). First, God must work regeneration in the heart of that man (Ezekiel 36:26). Then, God gives Him faith to recognize a reconciled God in the redeeming blood of Jesus (Ephesians 2:8-9), by which means God then inspires him to repent of his sins (Acts 5:31 and II Timothy 2:25). Note that each step is by the initiation of God, never by man: "
For those whom He foreknew He also predestined to be conformed to the image of His Son, in order that he might be the firstborn among many brothers. And those whom He predestined He also called, and those whom He called He also justified, and those whom He justified He also glorified
" (Romans 8:29-30).
Peter's answer to the Jews was that they needed to repent. And being knowledgeable of their Old Testament Scriptures. they know what he meant. However, even Christians today are ignorant of the Scriptures, especially the Old testament, so we don't have a proper understanding of how it occurs. It is not something which one can do by working at it. Rather, it can only be something that God works in him: "
I have heard Ephraim grieving,
'You have disciplined me, and I was disciplined,
like an untrained calf;
bring me back that I may be restored,
for you are the

Lord

my God" (Jeremiah 31:18). See also Acts 5:31 and II Timothy 2:25. And it is something that He promises to do in His elect: "I
, I am He who blots out your transgressions for my own sake, and I will not remember your sins
" (Isaiah 43:25).